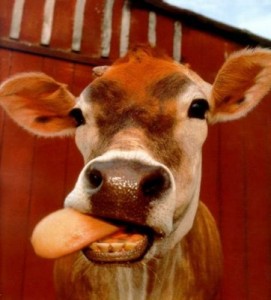 As the world's governments prepare to gather in Copenhagen to hammer out an agreement to lower greenhouse gas emissions, New Zealand's scientists are researching ways to reduce emissions of one of the most potent of these gases – methane.
The New Zealand Government yesterday revealed it will aim to reduce total greenhouse gas emissions by 10 – 20 per cent relative to 1990 levels, by 2020 (with certain conditions attached). Emissions reduction targets are the subject of climate discussions being held in Bonn this week, which are being attended by New Zealand's Climate Change Ambassador Dr Adrian Macey.
Discussion of climate change mitigation in general has tended to focus on reducing CO2 emissions – from power plants and automobiles, through to factories and aircraft. But New Zealand faces a unique challenge with methane and nitrous oxide from the agricultural sector counting for around half of the country's greenhouse gas emissions overall.
Scientists are tackling the methane problem on all fronts in a race to find a solution that could be used by agricultural economies worldwide to combat global warming. In this Science Media Centre online briefing, methane mitigation research under way in New Zealand will be featured as well as the scientists involved in it.
The briefing includes:
– An overview of research and development of methane mitigation technology already in progress.
– A look at the potential use of vaccines in cows and sheep to reduce methane emissions.
– Details of genomics research underway aimed at reducing methane emissions from ruminant livestock.
– Biofiltration as a potential tool in curbing methane emissions.
Part I
[audio:https://www.sciencemediacentre.co.nz/wp-content/upload/2009/08/Methane-reduction-part-I.mp3]
Part II
[audio:https://www.sciencemediacentre.co.nz/wp-content/upload/2009/08/Methane-reduction-part-II.mp3]
The online briefing features the following speakers:
Mark Aspin, Pastoral Greenhouse Gas Research Consortium manager: The PGGRC is a strategic partnership between the pastoral sector and Crown, tasked with developing and delivering solutions to reduce New Zealand's agricultural greenhouse gas emissions. Mark Aspin has managed the PGGRC since 2004 and is uniquely placed to give an overview on the issue of Greenhouse Gas abatement from a pastoral sector and research challenge point of view.
Adrian Walcroft, Landcare Research scientist: Adrian Walcroft is a Landcare Research programme leader for methane mitigation technologies. He is in the process of developing methane biofilters, a practical short-term solution that could significantly reduce methane emissions from oxidation ponds, landfills and cows sheds.
Graeme Attwood, Agresearch microbiologist: Graeme leads a team specialising in rumen microbial genomics. The team last year were the first in the world to map the genetic sequence of a rumen methanogen. This cutting edge research aims at identifying a genetic hallmark for all methanogens that can be manipulated to reduce methane emissions in livestock.
Neil Wedlock, Agresearch senior scientist: Neil is a senior scientist at AgResearch's Hopkirk Research Institute in Palmerston North. As a molecular immunologist he has worked in the field of vaccinology for the past 16 years with a particular interest in developing vaccines for bovine tuberculosis, mastitis of dairy cows and more recently a vaccine to reduce methane emissions from ruminants.