Finance Minister Bill English this afternoon delivered the 2009-10 budget. The SMC has summarised the policy and funding decisions announced in relation to science, technology and R&D.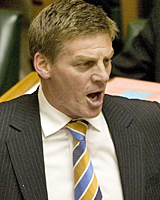 The SMC will be wrapping up comment from scientists on the budget. Email the SMC on smc@sciencemediacentre.co.nz to receive the comments this afternoon via email.
Base science funding
An extra $40 million over four years to the Crown Research Institute Capability Fund. This reinforces the ability of CRIs to maintain and develop their nationally significant research.
Funding of $36 million over four years to the Marsden Fund to provide for investigator-initiated excellent research.
New funding of $4 million over four years for the Prime Minister's Science Prizes. The prizes will provide a funding boost for the winning scientists and put the spotlight on excellence in science.
Agriculture
Agriculture and Forestry Minister David Carter today announced funding of $190 million over four years for the new Primary Growth Partnership. When fully operating in 2012/13, the partnership will see the Government investing $70 million annually in primary sector innovation.
Health
$32 million over four years for health research. The investment covers innovation in health delivery, research into targeted areas of health, and funding to sustain current health research investment.
Energy
Budget 2009 $323.3 million over four years for a campaign to fit homes with insulation and clean heating devices such as heat pumps and approved wood burners. The scheme, which is open to owners and occupiers of houses built before 2000, will start on July 1 this year.
Increasing funding for developing the Emissions Trading Scheme, including international linkages, by $6.9 million.
Broadband and ICT
The Budget includes ($290 million) "implementation funding" for the first installment in the Government's $1.5 billion roll-out of high-speed broadband.
The funding includes:
$200 million capital for infrastructure investment
$34 million for making schools broadband-ready
$8 million of operating spending (including $6 million for the Crown Fibre Investment Company)
In addition to the $1.5 billion broadband proposal, rural areas will benefit from a $48 million investment in broadband infrastructure. The details of this investment will be released soon.
KAREN
A $16 million capital injection in 2010/11 for the Kiwi Advanced Research and Education Network (KAREN), to enhance New Zealand's high-speed telecommunications research connectivity and capability.
Research and development
After scrapping the former Labour government's $700 million Fast Forward Fund for agricultural research and development, the Budget includes a new initiative of $190 million over the next four years.
The Primary Growth Partnership will see Government investing $70 million a year in sector innovation by 2012 to be matched dollar-for-dollar by the industry.
This is part of a total of $321 million of new money for research, science and technology.
http://www.radionz.co.nz/news/events/budget2009/2009/05/28/1245b0cb1277
What wasn't in the budget for science and innovation:
No policy change in relation to R&D tax credits
No allocation for a climate science research centre. This was previously signaled in National's Science policy paper last year.
No additional funds specifically for clean technologies
Here are links to further information, if required:
http://www.treasury.govt.nz/budget/2009
Ministers' Media Releases:
Research, Science & Technology
http://www.beehive.govt.nz/release/budget+boost+supports+strong+base+science
Agriculture
http://www.beehive.govt.nz/release/major+boost+primary+sector+innovation
Environment
http://www.beehive.govt.nz/release/government+delivers+environmental+priorities
Communications and IT
http://www.beehive.govt.nz/release/budget+kick+starts+broadband+investment
Health
http://www.beehive.govt.nz/release/government+delivers+its+promises+health