The new minister for research, science and technology, Dr Wayne Mapp, wasn't joking earlier in the month when he said "a fire hose of information" had been blasted at him in his first 10 days in the new job.
The briefing papers, released under the Official Information Act contain a lot of information, but give a good overview of the funding situation for science in New Zealand.
Of particular interest is the report by CCMau, the Crown Company Monitoring Advisory Unit which keeps an eye on investments in companies owned by the Crown.
This ministerial briefing paper gives a good indication of the health of our Crown research institutes and where they are heading. It's generally a positive picture, though some of the CRIs need to tap fresh markets quickly to diversify their revenue bases and some of them have serious capital investment programmes on the cards that will collectively cost hundreds of millions of dollars.
The table below gives an idea of the revenue , profitability and head count of the CRIs.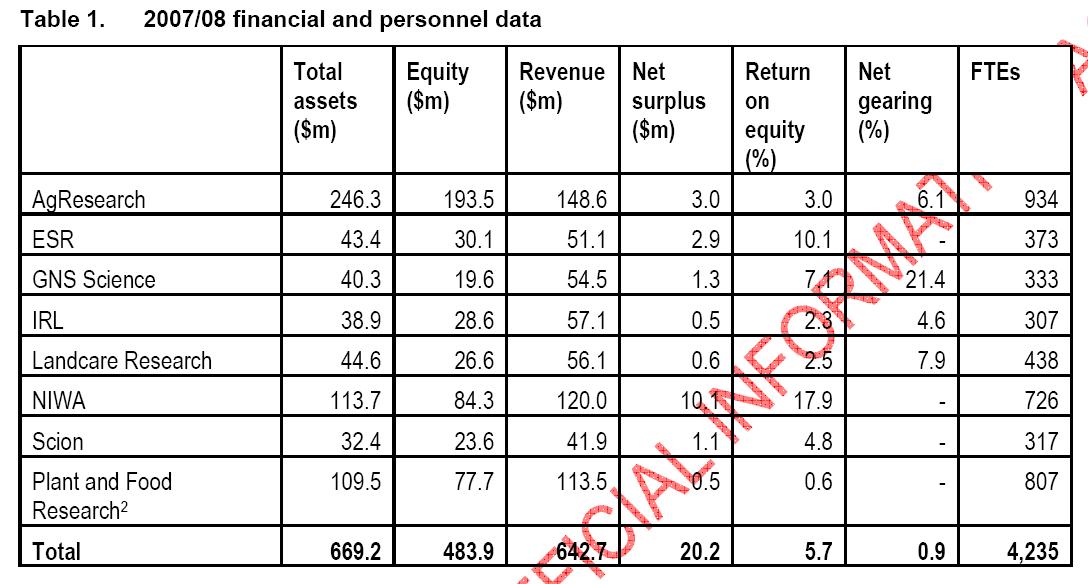 Uncertain times
Obviously AgResearch is the largest of the CRIs and it receives special mention in CCMau's report in relation to the redundancies AgResearch announced in the run up to the election:
"In an attempt to better match costs with revenue streams, AgResearch commenced a process to seek voluntary redundancies in October 2008. The outcome of this process, 20 voluntary severances identified, was announced on 31 October 2008," the report notes.

"While this will reduce costs to a certain extent, it is not enough to ensure AgResearch's ongoing viability, and the company is now investigating targeted redundancies. Decisions around the number and areas of these redundancies are expected to be announced in mid November 2008, to be effective before the end of the 2008 calendar year."
Early this month, AgResearch announced that the Foundation for Research, Science and Technology had offered $1.8 million over 18 months ot allow AgResearch to reduce the number of positions disestablished.
AgResearch's genetic modification applications currently before ERMA also get special mention in the CCMau report:
"These applications are proving to be controversial, particularly as they are very general in nature. Submissions on the applications closed on 31 October 2008 and ERMA has now begun work on preparing evaluation and review reports on the applications. In early November 2008 GE Free New Zealand filed High Court proceedings to try to prevent ERMA from considering the applications. Depending on the outcome of these proceedings, ERMA is likely to hold a public hearing in early to mid 2009."
Several of the CRIs are forecasting relatively "aggressive revenue growth" over the next three years but CCMau notes.
"While most CRIs are in a good position to continue to grow revenues, some may struggle to meet revenue targets, particularly in 2008/09 as current economic conditions start to take effect."
International revenue was contributing more to the coffers of the CRIs, but overall currently makes up only five per cent of revenue.
IRL had needed a Government injection last year to remain viable after reporting a $5.7 million loss in 06/07 but now seems to be out of the woods, with 7 per cent revenue growth in the last year and a $543,000 profit.
Rate of return of the CRIs
The report notes that the CRIs have a long term rate of return of nine per cent (cost of equity calcuated as the risk-free rate plus an appropriate risk premium). Only three of the CRIs are forecasting an average return on equity that meets of exceeds the target in the three year period covered – ESR, GNS and NIWA. Reports CCMau:
"The average RoE in the CRI sector is expected to fall from an actual result of 5.7% in 2007/08 to 3.1%in 2008/09, and then rise to 5% in 2009/10 and 5.5% in 2010/11."
Investing for growth
If the CRIs have plans to reduce their dependence on Government funding (to 43 per cent in 2010/11 from around 47 per cent currently), there's also a fair amount of capital investment on the cards for the next few years. Much of this fallged investment hasn't been budgeted for. AgResearch is forecasting significant spend to upgrade buildings at Invermay and Lincoln, but hasn't budgeted yet for the upgrade of its Ruakura site, which is expected to cost "between $50 and $100 million."
Plant and Food Research intends to upgrade its Mount Albert Research Centre in Auckland while IRL will need to stump up a "significant amount" to revamp its aging Gracefield site or find a new campus.
Measures of success
CCMau keeps track of the CRIs progress through non-financial measures known as "research application metrics".
Overall, the report notes that the CRIs are performing to satisfactory levels. What is measured – everything from technical papers produced to patents granted. Here are some of the measures collated for 2007-08:
Peer-reviewed articles 1,780
New or improved processes, products or services 202
Keynote and plenary presentations 172
Licensing arrangements entered into 83
Patents granted 35
New joint ventures and formal associations 22
Overall then, an interesting snap-shot of the CRIs
Tomorrow we'll look at CCMau's concerns about REANNZ, the high-speed research network and figures released by the Foundation for Research, Science and Technology.