Media briefing on GMOs
Media briefing from yesterday now available for playback online.
Please dial 0800 449 994 and enter PIN code 136605# then press 1 to listen to the panel discussion and media Q&A.
How do we know if genetically modified organisms (GMOs) are safe? Media are invited to hear from, and pose questions to, biosafety researchers and regulators at a briefing to be held at the O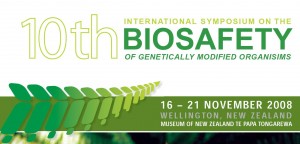 ceania Breakout Room South at The Museum of New Zealand Te Papa Tongarewa on Monday 17 November, from 12.45 p.m. to 2 p.m.
The panel will feature a number of prominent New Zealand and international scientists who are actively involved in field trials of GMOs and on the forefront of this evolving science. This will be an opportunity for you to get expert opinion on the science behind genetic modification and ask any burning questions directly of the scientists involved.
The briefing is part of the 10th International Symposium on the Biosafety of Genetically Modified Organisms (GM Biosafety Symposium), in conjunction with the Science Media Centre, and will be co-chaired by International Society for Biosafety Research (ISBR) President Joachim Schiemann, from Germany, and Libby Harrison, General Manager of the New Organisms Group at the Environmental Risk Management Authority (ERMA New Zealand).
Additional speakers include:
ISBR President Elect Patrick Rüdelsheim, from Belgium;
Programme Chair for this year's symposium Jeremy Sweet, from the United Kingdom;
Christian Walter from Scion (formerly New Zealand's Forest Research Institute);
Australia's Acting Gene Technology Regulator Elizabeth Flynn;
Tony Conner, a senior scientist at Crop & Food Research, New Zealand;
Götz Laible from AgResearch, New Zealand;
Rosie Hails, a professor at the Centre for Ecology and Hydrology, Oxford, United Kingdom.
The session will be informal in nature, and a buffet lunch will be provided.
Registration is required for attendees. You can also participate in this press conference by phone. Contact the Science Media Centre for details.
Journalists registered with the Science Media Centre can log into the SMC resource library to download a handbook containing abstracts of papers to be presented at the conference.
The GM Biosafety Symposium will be held in Wellington from 16-21 November, marking the first time an Australasian country has played host to this prestigious biennial event. The symposium is an opportunity for biosafety researchers and those engaged in the risk assessment and regulation of GMOs from around the world to share information and exchange ideas; it is organised by the ISBR, a not-for-profit organisation that promotes sound scientific investigation into the safe use of GMOs.
For more information, including the full conference programme, please visit the symposium website: www.isbgmo.info.
To register for the media briefing, or for more information, contact Peter Griffin at the Science Media Centre on (04) 499 5476 or (021) 859 365, or by email at smc@sciencemediacentre.co.nz