Whether or not marine reserves help the unprotected sea creatures beyond their borders has been hotly contested, but new research from the University of Auckland suggests that protected marine areas can serve as local fish nurseries.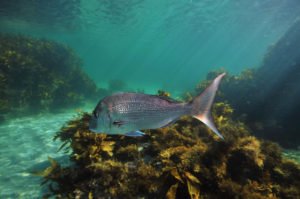 The study, published today in Proceedings of the Royal Society B, examined the genetics of adult snapper near Goat Island Marine Reserve, north of Auckland. They found not all snapper originating within the reserve stuck to the safe boundaries of home — around ten per cent leave the nest, with some found up to 55 kilometres away as adults.
Professor John Montgomery said the contribution from the reserve was "about 10 times higher than would be expected if snapper larval contribution was simply proportional to geographic area".
"This is the first estimate of the larval contribution of adult snapper from the reserve into the surrounding fishery and shows that even though the reserve is a tiny percentage of the area studied, it is more than pulling its weight in contributing to snapper populations outside."
The research has been covered by local media, including:
NZ Herald: Marine reserve boosts snapper outside borders
Stuff.co.nz: Goat Island Marine Reserve proven to bolster surrounding snapper populations
TVNZ: Watch: Scientists prove marine reserves boosting snapper numbers in NZ waters
Sciblogs: Snapper spillover: Marine reserves boost local population