Following last month's discovery of myrtle rust on Raoul Island pōhutukawa, the fungal disease has now been detected in Kerikeri – the first time it's been recorded on mainland New Zealand.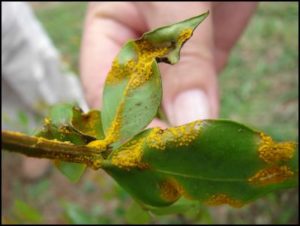 The Ministry for Primary Industries was notified on Tuesday evening that a nursery in Kerikeri had five pōhutukawa seedlings with suspected myrtle rust, which laboratory testing has since confirmed.
The SMC gathered expert reaction to the discovery of myrtle rust on Raoul Island in April.
A restriction has been placed on the movement of plants and people from the Kerikeri site and nursery stock is being treated with fungicide as a precaution.
In Australia, the fungal disease affects a range of native species. If it established in New Zealand, it could impact iconic native species like pōhutukawa, kānuka, mānuka and rātā, as well as feijoa and eucalyptus.
More information about myrtle rust and how to identify it is available on MPI's website. Anyone believing they have seen myrtle rust on plants in New Zealand should call MPI and are urged not to touch the plants or attempt to collect samples, as this could spread the disease further.
NZ Herald: Range of NZ native species under threat after myrtle rust is detected in Kerikeri nursery
TVNZ: Biosecurity alert as plant fungal disease found on NZ mainland for first time
Stuff.co.nz: Potentially deadly disease to pohutukawa and manuka arrives in Northland
Radio NZ: New disease threatens pohutukawa, manuka and feijoa