The Prime Minister's Science Prizes have been presented in Wellington today, dishing out a total of $1 million across five categories.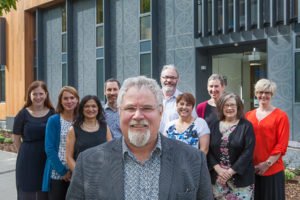 The University of Otago team behind the world-renown Dunedin Multidisciplinary Health and Development Study has been awarded the top prize of $500,000. The Dunedin Study, led by Professor Richie Poulton, has been following the lives of about 1,000 children born in Dunedin in 1972-73.
Its findings have changed health and social policy-making, from safety mats to prevent playground injuries to influencing judicial practices by identifying antisocial behaviour stemming from childhood.
"Winning the prize is not just for me," Prof Poulton said. "It's for the team. It's for the study that I love. This prize is the top team award in New Zealand."
"But those who take part in the study are probably the most important of all. I am so looking forward to having that prize statue sitting in the research unit when they come in for their assessment and I'm going to say 'take a picture of yourself with that because it's yours, it's much more yours than ours'."
Science communication award
Victoria University of Wellington's Dr Rebecca Priestley has been awarded the Science Communication Prize for a career that has so far spanned 20 years, with a regular column in the NZ Listener and several books on the history of science including The Awa Book of New Zealand Science and Mad on Radium: New Zealand in the Atomic Age.
Dr Priestley said some of her $100,000 award – half of which is designated for science communication activities – would go toward a new massive online open course (MOOC) on science communication and she will create a science journalism fund.
"To make decisions about their future, people need to be able to understand, discuss and ask informed questions about issues such as climate change, water quality and emerging technologies," she said.
"I think it is time for the science communication community to focus more on thinking about what we are doing, what we are trying to achieve and how we can do it better."
Other award winners
The Prime Minister's 2016 MacDiarmid Emerging Scientist Prize goes to Professor Brendon Bradley from the University of Canterbury, who is leading worldwide research into the effects of ground shaking caused by earthquakes. Brendon's research is being used to set new building design codes internationally, putting emphasis on more robust designs for buildings and infrastructure of critical importance, such as hospitals, telecommunications headquarters and office blocks occupied by large numbers of workers. The Prize recognises Brendon's sophisticated seismic hazard analysis and assessment modelling, and his pioneering ground motion simulation to identify and mitigate earthquake impacts.
The Prime Minister's 2016 Science Teacher Prize has, fo the first time, been won by a primary school teacher—Dianne Christenson, who is the curriculum leader for science at Koraunui School in Lower Hutt's Stokes Valley. Under Dianne's leadership, students at Koraunui School work in the garden, the river, the ocean and the kitchen, getting the opportunity to explore, take risks, get used to failure and have fun while they're doing it.
The Prime Minister's 2016 Future Scientist Prize has been won by former Onslow College student Catherine Pot who tackled a problem that no other New Zealand student competing in the 2016 International Young Physicists' Tournament wanted to take on. Catherine investigated the van der Pauw method, which is used in experimental semiconductor physics in many university labs, and came up with an experimentally-verified way of improving the technique so it can be more widely applied. Catherine becomes the third person from Onslow College to win a Prime Minister's Science Prize—Stanley Roache won the inaugural Future Scientist Prize in 2009 and Terry Burrell, Learning Area Leader for Science at Onslow, won the Prime Minister's Science Teacher Prize in 2015.
Read more on the Prime Minister's Science Prizes website.