New spots for science in New Zealand news, with launch of Newsroom and The Project and a special climate section on NZ Geographic's website.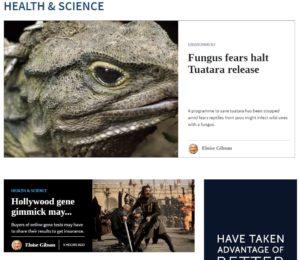 Newsroom.co.nz launched today, the brainchild of former Mediaworks head of news Mark Jennings and NZ Herald former editor-in-chief Tim Murphy. Its feature story for launch day was an investigation by reporters Morgan Tait and Melanie Reid on whether Countdown had been selling caged eggs labelled as free range.
Newsroom's environment and science editor Eloise Gibson has hit the ground running with stories on antibiotic use in farm animals, a tuatara release halted because of a fungal infection and New Zealand being ranked as the country most "ready" for climate change.
Newsroom has also featured a contribution from Victoria University of Wellington's Professor James Renwick writing about extreme high temperatures in Antarctica and what it means for record keeping and climate change.
On the subject of climate change, NZ Geographic has launched a climate section on its website in partnership with the Deep South National Science Challenge. The section launched with the latest issue of the magazine, which included a feature about the New Zealand Earth System Model, described as the most nuanced and complex climate model, led by Deep South scientists.
Mediaworks' new 7pm show The Project, now in its fourth week, features a science section every Friday, dubbed SciFri. AUT's Robin Hankin has headed the section for the past two weeks, giving the presenters three science stories, one of which is fake, and challenging them to spot the lie.
Friday's show featured a double science whammy, with University of Auckland's Michelle Dickinson – aka 'Nanogirl' – filling the guest spot on the panel.