A paper published overnight in the New Zealand Medical Journal has added to the call to ban alcohol marketing and sponsorship from sports.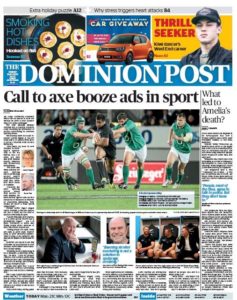 Researchers at the University of Otago surveyed five televised sporting events over the 2014-15 summer and found audiences were exposed to between 1.6 and 3.8 alcohol brands per minute and up to 200 ads per hour.
Lead author Associate Professor Louis Signal said that children should be protected from such marketing by banning alcohol sponsorship of sport.
"Sport sponsorship bypasses traditional marketing and gets around the current advertising codes," she said. "Children see their sporting heroes linked with alcohol. In New Zealand, we have already agreed that alcohol should not be marketed to children by traditional marketing. Why should we allow it with sports sponsorship?"
Massey University's Professor Sally Casswell, who heads Social and Health Outcomes Research and Evaluation (SHORE), welcomed the new study as a "timely reminder of the extent to which we allow our children to be exposed to alcohol marketing in the context of watching sporting events".
"We need to keep reminding people, reminding ourselves, that we are allowing our young people to be exposed to high levels of alcohol marketing. We're making that choice," Professor Casswell told Radio NZ.
University of Otago's Professor Steve Jackson said the new study confirmed the findings of a growing number of research studies in New Zealand and overseas.
"Sadly, despite overwhelming evidence of the social harm being caused by a lack of regulation of alcohol, little meaningful action has taken place and at this point there is not much cause for optimism where business interests trump the interests of citizens."
The research has been widely covered in New Zealand media, including:
The Dominion Post: Advertisers' group frothing over calls to banish booze money from sport
Newstalk ZB: Calls for alcohol sponsorship of sport to be banned
NZ Herald: TV sport heavily exposing kids to booze ads, say academics
Radio NZ: Alcohol brands should stop sponsoring sport – researchers
Māori Television: Researchers want alcohol sponsorship of major sporting events banned
Radio Live: Researchers call for ban on alcohol sponsorship of sport
TVNZ: Alcohol ads teach kids that drinking is 'part of being a good New Zealander', researchers suggest
Radio NZ: Sports and alcohol advertising
Newsroom: Kids bingeing on booze advertising in sports – study