The New Zealand Dental Association (NZDA) has launched a new consensus statement on sugary drinks, calling for better information for the public about negative impacts of excess sugar.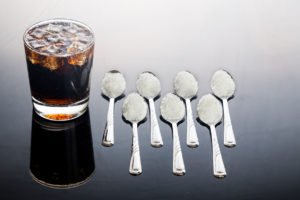 Launched today, the consensus statement highlights seven areas for action:
An icon on drinks indicating the amount of sugar in teaspoons
Independent monitoring of food marketing, with a focus on marketing that influences children
Adoption of the World Health Organisation's (WHO) limit guidelines on sugar
Warning labels highlighting risk factors for obesity, diabetes and tooth decay
Nationwide campaigns such as 'Switch to Water'
Local council 'water only' policies at facilities and events
A 'sugary drinks' tax in line with WHO recommendations
NZDA spokesman Dr Rob Beaglehole told Newshub that earlier in the week he had to remove all of an 18-month-old's teeth because of sugary drinks. "This child is going to have to wait another four years before his permanent teeth come through. He'll have problems socialising, he'll have problems eating, and he'll have problems speaking."
The association said that sugary drinks were no longer a "looming" public health crisis, but a current and very real one.
The launch of the consensus statement was covered by several local media:
Newshub: New Zealand dentists launch war on sugar 
NZ Herald: Dentists demand sugar tax, teaspoon labelling on bottles
Newstalk ZB: NZ health groups call for crackdown on sugary drinks
The Dominion Post: War on sugary drinks launched as looming health crisis becomes reality
Healthy Food Guide: Bid for sugary drinks warning labels, tax