With the summer season kicking off, it's not all BBQs and beaches: many scientists are heading south for the Antarctic research season.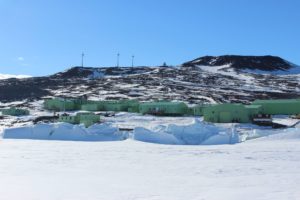 As Kiwi scientists head to the ice, they've featured in New Zealand media – especially given astronaut Buzz Aldrin's emergency evacuation from the South Pole to Christchurch, where he is recuperating from symptoms related to altitude sickness.
Fairfax Media's science page Catalyst reported on University of Otago's Associate Professor Miles Lamare's work on starfish, using them as a proxy for studying the effects of climate change. But it's not the effect you might expect, Lamare is predicting the study species – Odontaster validus – might do better under warmer and more acidic conditions if successive generations are able to adapt to the changing conditions.
The Dominion Post has profiled Victoria University of Wellington's Associate Professor Nancy Bertler and her research on ice cores. She described her days in the field and said Wellington conditions provided excellent training grounds for camping in Antarctica.
In January, Scott Base will host an Antarctic TedX with a speakers list including US astronaut Dr Dan Barry and documentarian Anthony Powell, the event has caught plenty of media attention.
A selection of some of the recent Antarctic-related media:
Stuff.co.nz: Antarctic starfish may show climate change will produce winners and losers
NZ Herald: Life on the ice: A glimpse of Antarctica
Stuff.co.nz: Continent 7: Dangerous science by Antarctica NZ
Dominion Post: A day in the life of an Antarctic researcher
Stuff.co.nz: Digging in and diving under the Antarctic ice with Kiwi Matt Windsor
Radio NZ: A vast silence – Warren Maxwell in Antarctic
NZ Herald: Gin Wigmore, Nasa astronaut, filmmaker, scientists and business leaders in Antarctic Ted Talk