New Zealand's first orbital launch site has been opened on the Mahia Peninsula on the North Island's east coast.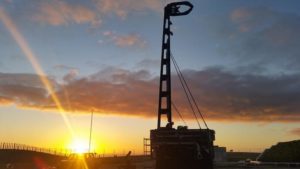 Los Angeles company Rocket Lab plans to start launching from Mahia later this year, with commercial payloads added from next year.
Economic Development Minister Steven Joyce hoped Rocket Lab would be the catalyst for other space-related activity in New Zealand.
The opening was covered by a range of local and international media:
Stuff.co.nz: Rocket Lab's Mahia launch site prepared for takeoff
NZ Herald: Rocket Lab launch site go for lift-off
Newshub: Rocket Lab opens Kiwi launch pad
Hawke's Bay Today: Rocket launch site officially opened
Gisborne Herald: Dawn of the New Zealand space age
TVNZ: New Zealand's first orbital launch site opened
LA Times: Rocket Lab finishes launch complex in New Zealand
Space.com: Rocket Lab Opens Private Orbital Launch Site in New Zealand