Researchers at the University of Auckland say New Zealand should adopt stricter criteria to stop the advertising of unhealthy foods to children.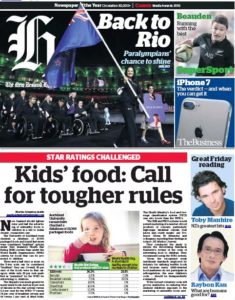 Writing in the New Zealand Medical Journal, published today, the Auckland researchers compared three accepted nutrient profiling systems and found the World Health Organization Europe's model was the most effective at protecting children from exposure to the marketing of unhealthy food.
Promoting unhealthy foods and drinks is a significant risk factor for child obesity and diet-related non-communicable diseases like type-2 diabetes, they say, but it is a risk factor that can be altered. The study was conducted to inform the Advertising Standard Authority's review of how food is advertised to children.
More information about the study is available at scimex.org.
Several NZ media outlets covered the study:
NZ Herald: Auckland University study urges tighter restrictions on advertising food to children
Radio NZ: Healthier kids' marketing system
Newstalk ZB: Study suggests world standard food rating system for ads