by Peter Griffin, SMC Director
I'm asked to give a lot of presentations to groups in the science sector about what is going on with the media. These days, that involves changing my presentation on a weekly basis.
Last week's update accounted for the review of feature programmes at RNZ, including the long-running Our Changing World science show, the launch of Herald Focus – the twice-daily video news bulletins produced by NZME, and rumours of a merger between NZME owner APN and Channel Nine in Australia.
This week, the slides feature the departure of "mate of the nation", TV3 presenter Hilary Barry and One New's partnership with Stuff to feature the former's video reports on the latter's website.
With all the consolidation and uncertainty, how is science journalism faring? Well, we have less science journalists than ever before and the latest shake-up at RNZ raises uncertainty about the position of the last full-time science journalist in the country, Our Changing World co-host and co-presenter Veronika Meduna.
But science stories have been covered mainly by general reporters most of the time the Science Media Centre has been in business. While we'd like to see more people with the time and resources to get their teeth into the science round, there are plenty of examples just in the past few weeks of where science media has shone.
Here are just a few of them…
Forensics NZ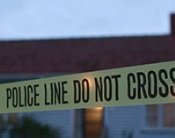 This forensics show is hosted by RNZ's This Way Up host Simon Morton and made with the collaboration of Environmental Science and Research (ESR) and the New Zealand Police.
Each of the five episode tell the story of a real New Zealand crime and how forensics helped solve it. The first episode tracks the senseless murder of a taxi driver in Auckland and how fingerprints, sat nav GPS data, CCTV footage and DNA evidence formed the evidence against the killer. It's a fascinating look into the huge work that goes into extracting evidence from crime scenes and exhibits and the ESR scientists do a great job of working with Morton to put the tools and techniques in simple terms. You can steam the show from the Prime website. Forensics NZ screens on Prime TV, 8.30pm, Sunday
Natural History NZ – New Zealand Geographic tie-up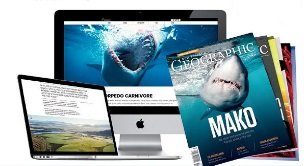 New Zealand Geographic, the beautifully produced magazine released bi-monthly, has been fully digitised with all 2,000 stories and 10,000 images from the archive now online behind a paywall. At the same time, Natural History New Zealand has made available 160 hours of natural history programming. All of the content has been made available at www.natgeo.com. This sees some of the best New Zealand nature and science journalism and documentary making featured in one place and the platform is pretty slick from a technical point of view. Subscription options offer flexibility with print/digital bundles available.
"The New Zealand Geographic journey continues in print, online and now a streaming television service, allowing an ever-more-fascinating view of our society and environment," wrote editor and publisher James Frankham in the latest issue of New Zealand Geographic.
New Zealand Listener – Dodgy carbon credits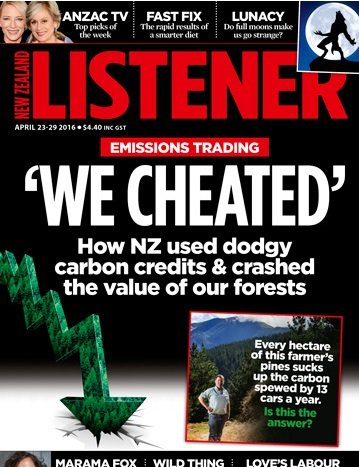 The April 23 issue of the New Zealand Listener featured a stark black cover and the words "We cheated". What followed was an in-depth piece by writer Rebecca Macfie on New Zealand's use of carbon credits of dubious origin to help meet its emissions reduction targets. The piece was timed to coincide with the launch of a report from the Morgan Foundation, which detailed New Zealand companies' use of carbon credits and proposed an overhaul of the Emissions Trading Scheme to accommodate more effective and genuine emissions reduction efforts.
A follow up piece in the May 1 issue of the Listener looked at strategies for a low carbon future, including the increased planting of forests to act as carbon repositories.
Writes Macfie: "When it comes to deep emission reductions, we don't have a silver bullet – but we do have trees and ample land on which to grow them."
Coast New Zealand
New Zealand was an obvious location for a spin-off of the popular BBC documentary fronted by archaeologist and author Neil Oliver. Australia has already been the subject of two series of Coast in 2013 and 2015 and the current six part series takes viewers from Milford Sound to the Bay of Islands, the West Coast to the East Coast. Along with the breathtaking visuals is a fair bit of science, as a team of experts including maritime archaeologist Matt Carter, geologist and palaeontologist Dr Hamish Campbell and marine biologist and actress Jacky Guerts, explain how New Zealand's coastal geology, ecosystem and wildlife developed. Screens on TVI, 8.30pm, Tuesday.
Peak Antobiotics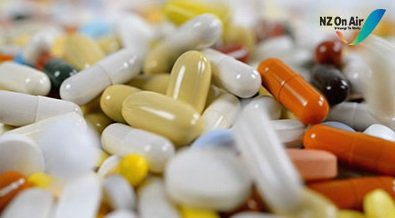 Another science-related Prime documentary that does a great job of highlighting a science-related issue in simple and compelling terms. The documentary Peak Antibiotics looks at the rise of antibiotics resistance and the major health risks this poses. It was all done with the helpful guidance of local microbiologists including Dr Siouxsie Wiles and Dr Heather Hendrickson. As the producers explain:  "While these 'super-bugs' might not mean much to those of us without a science degree, the reality is that life without antibiotics will see us lurch back 200 years when common bacterial infections led to amputation and even death!" Available for replay on the Prime website.
Sunday insight – science and innovation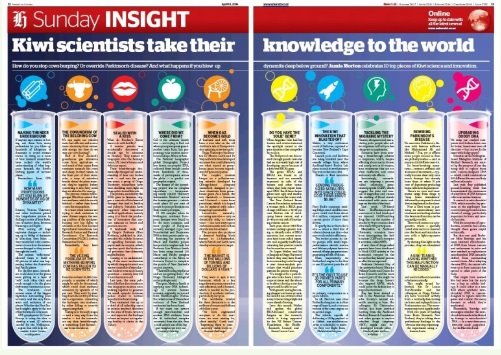 In a two-page spread in the Herald on Sunday published April 10, science journalist Jamie Morton laid out ten New Zealand science and innovation success stories, ranging from migraines to methane. "How do you stop cows burping? Or override Parkinson's disease? And what happens if you blow up dynamite deep below ground?" Asked Morton who went on to introduce the New Zealand researchers seeking to answer those exact questions. Read the piece here. 
I should stress – these are just six stories I noticed of late that caught my eye – many more aren't listed here and we do our best to feature them in our In the News section.
The breadth of subject matter, formats and approaches suggests there is strong appetite for science-related coverage and innovative approaches being employed to deliver it across mediums.
One thing is certain – the change and uncertainty in the media isn't going to end any time soon. But the appetite among readers, viewers and listeners for great science-related stories seems to grow stronger all the time.