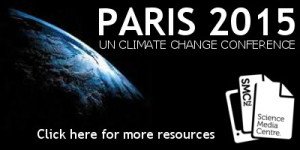 The UN Climate Change Conference in Paris, which starts this Monday, has not been missed by the New Zealand media.
There has been no shortage of commentary from New Zealand researchers, politicians and advocates in anticipation of the talks. Below is a quick wrap-up of recent articles and interviews.
If you are wondering what all this Paris conference talk is about, some useful background can be found in great scene-setting articles from RNZ's Chris Bramwell and BusinessDesk's Pattrick Smellie (meanwhile the Tobys  -Toby Morris and Toby Manhire – offer a more tongue-in-cheek view of the meeting for RNZ).
Before leaving to attend the talks, Climate Change Issues Minister Tim Groser was interviewed by TVNZ's Corin Dann and gave an in-depth Q&A for the New Zealand Herald.
In the New Zealand Herald, University of Waikato Law Professor Al Gillespie says New Zealand needs to lift its game in terms of climate commitments.
Also in the New Zealand Herald, Auckland University's Professor of Population Heath Alistair Woodward gives a Q&A  on the health issues related to climate change, and Dr Andrew Tait, principal climate scientist at NIWA, outlines the scientific basis for the climate change negotiations.
Victoria University Paleo-climatologist Prof Tim Naish discussed the conference with Sam Hayes on Newsworthy.
On RNZ, Our Changing World talked to the New Zealand Youth Delegation heading to Paris for the conference
Dr Jan Wright, Parliamentary Commissioner for the Environment, chatted with with Paul Henry about the talks on RadioLIVE.
RNZ is also running a series of opinion pieces with leaders of industry and environmental groups. Contributors so far include: Russel Norman, Greenpeace executive director; Gary Taylor, Environmental Defence Society; Volker Kuntzsch, chief executive of fishing company Sanford; Don Braid, group managing director of Mainfreight; and Niamh O'Flynn, 350 Aotearoa national director.
Coverage can be expected to continue into the weekend, with climate action marches taking place in 34 towns and cities around the country this Saturday.
The Science Media Centre will be monitoring the events in Paris closely and working with experts and journalists to ensure informed, accurate and up-to-the-minute coverage of the conference and associated events.
We will also be collating announcements, news coverage and expert reaction on the Science Media Center website under the COP21 tag available here.