An Italian surgeon's plan to perform the first 'full body transplant' on a human has been met with scepticism.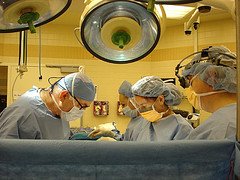 Published in the journal Surgical Neurology International, Dr Sergio Canavero recently outlined his plan to graft a living person's head onto a deceased donor body.
A 29 year-old Russian man, suffering from a disease which slowly wastes away his muscles, has volunteered to undergo the surgery.
While Dr Canavero believes the technology to carry out the operation  is only two years away, a University of Otago scientist speaking to Newstalk ZB has dismissed the plan as "science fiction".
Otago University Associate Professor Graeme Hammond-Tooke said it was technically possible to sew someones head onto a new body, but the real problem was connecting up the spinal cord, a technique which could be decades away.
Dr Hunt Batjer, president elect of the American Association for Neurological Surgeons, told CNN he would not wish this on anyone.
"I would not allow anyone to do it to me as there are a lot of things worse than death"
The research has been covered in the national and international media. Examples include:
The New Zealand Herald: NZ Expert calls body transplant 'science fiction'
TVNZ:  Italian Doctor planning human head transplant
News.com.au: terminally ill man set to undergo world's first head transplant
The Guardian: First full body transplant two years away