Christchurch's freshwater wildlife is being smothered in silt, according to a new study by researchers at the University of Canterbury and the National Institute of Water and Atmospheric Research (NIWA).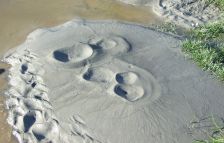 The study, published today in the New Zealand Journal of Marine and Freshwater Research, highlights the decline of wildlife in the city's waterways following the Christchurch earthquakes.
Liquefaction from the earthquakes flooded Christchurch with more than 560,000 tonnes of sediment, causing major disruption to the City's freshwater habitat.
The authors of the study, Professor Jon Harding (University of Canterbury) and Dr Phillip Jellyman (NIWA), say that without human intervention it may take many years for the streams to recover from this catastrophic disturbance.
More information on the study can be found here
The research has been covered in the national media. Examples include:
The Press: Freshwater habitats decimated by quakes
TVNZ: Canterbury quakes prove deadly for fish as well as people