The prestigious 2014 Prime Minister's Science Prizes, which recognises the impact of science on New Zealanders' lives along with celebrating and encouraging the achievements of scientists, were presented to five winners today at Te Papa Tongarewa in Wellington.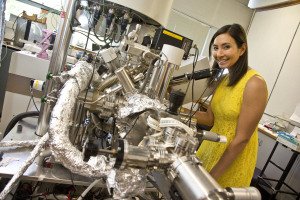 The top 2014 Prime Minister's Science Prize of $500,000 went to the He Kainga Oranga/Housing and Health Research Programme, led by Professor Philippa Howden-Chapman from the University of Otago, who is the first woman and the first social scientist to receive the prestigious award. Professor Howden-Chapman's team has worked nationwide for 15 years to address long-standing quality deficiencies in housing, particularly as they affect vulnerable groups such as children, older people and those with chronic health conditions including asthma. The team will use $400,000 of the prize money to carry out a community trial on the impact of improving housing on new born infants.
The Prime Minister's Science Media Communication Prize was presented to Sciblogs contributor Dr Michelle Dickinson, a biomedical and materials engineer who runs Australasia's only nanomechanical testing laboratory at the University of Auckland. The prize, valued at $100,000, recognises Michelle's work to make the serious subject of science fun and accessible, which she does through regular radio and television appearances, tweets, blogs and her 'Nanogirl' cartoon persona. Michelle aims to use her prize money in developing a Kiwi science recipe book using common house-hold ingredients to encourage parents to do science with their children at home, creating a television and Internet science superhero series and producing a popular scientific book giving humorous academic research advice.
Read more from the SMC on why Michelle makes a good science communicator.
The MacDiarmid Emerging Scientist Prize of $200,000 goes to Dr Karl Iremonger, a researcher and lecturer at the University of Otago, who has discovered a new brain cell structure and communication system, setting the stage for more targeted therapies for neurological diseases. Dr Iremonger has used cutting-edge technology to help identify brain cells that function differently to what has been previously accepted. His discovery could ultimately lead to improved contraception and infertility treatments. Karl's prize money will contribute to a New Zealand-first research laboratory at the University of Otago where Karl and his team will be applying his world-leading knowledge to discover how the brain controls the body's response to stress.
The Science Teacher Prize has been won by Terry Burrell, who is the Learning Area Leader for Science at Onslow College. She has been awarded the prize for what colleagues and the judges describe as an infectious love of learning which excites and stimulates both students and other teachers to perform at their best. During Terry's time at Onslow, the number of students studying science at NCEA level two has increased 31 percent while the numbers staying in science through to level three are up 32 percent. Terry receives $50,000 and Onslow College receives $100,000, which will be used to build capacity in the science learning area including purchasing equipment and releasing Terry from some teaching responsibilities so she can work alongside other teachers.
The Future Scientist Prize was awarded to 17-year-old Tim Logan from Darfield High School in Canterbury, for his scientific investigations into the protection and survival of some of New Zealand's endangered indigenous plants. Tim's two year study of native plants, many of them at risk of extinction, across Canterbury's drought-prone Waimakariri Plains, shows that stock grazing can work in conjunction with ecological conservation. His study is the first of its type in lowland Canterbury. Tim receives a scholarship of $50,000 to help pay for tertiary studies.