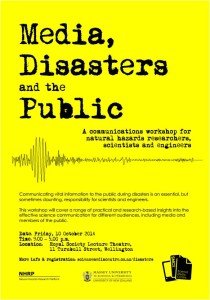 Communicating vital information to the public during disasters is an essential, but sometimes daunting, responsibility for scientists and engineers.
At the request of members of the natural hazards research community, the Science Media Centre hosted a workshop reflecting on challenges faced and lessons learned during recent major events, such as the Canterbury and Cook Strait quakes, the eruption of Mt Tongariro, as well as tropical cyclones, storms and other natural disasters.
The day was designed to cover a range of personal, practical and research-based insights into effective science communication for different audiences, including media and members of the public, and to be an open forum for discussion.
The workshop was organised with support from: Natural Hazards Research Platform; Joint Centre for Disaster Research (Massey/GNS); Science Media Centre; Massey University; Engaging Social Science (eSocSci); and the Royal Society of New Zealand.
Selected sessions were recorded and are available to listen back to below. Presentation slides for selected sessions are also displayed below.
LISTEN TO AUDIO
View the final programme, including information on speakers.
Recorded at the 'Media, disasters and the public' workshop Friday 10 October 2014.

VIEW SLIDES