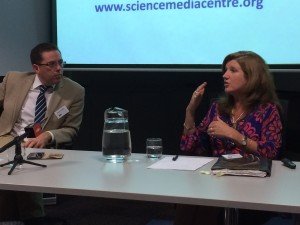 When it comes to communicating science, what works? What doesn't?
As part of World Science Week in Auckland last week, Peter Griffin, Founder and Manager of the New Zealand Science Media Centre, and Fiona Fox, Founding Director of the UK Science Media Centre, shared their views and thoughts on the SMC model and the science media landscape.
The panel discussion, titled 'Handling media frenzies – negotiating minefields in science communications', was hosted by the Public Relations Institute of New Zealand (PRINZ) and the Science Communicators Association of New Zealand (SCANZ).
Peter Griffin offered five key points he thinks are critical to communicating science effectively in today's media environment:
Openness is a good strategy: While it is tempting for organisations to go on lock-down if a controversial issue arises, openness and transparency almost always pay off in the long term.
The vacuum will always be filled by someone: If science organisations choose not to engage on controversial issues, interest groups and advocates will step into the breach, and the quality of public discussion on the science may suffer as a result.
Empower scientists to talk to the media: Offer guidelines, frameworks and training that allows scientists to speak to the media and share their expertise without creating conflicts with commercial interests.
Preparation is vital: Always have a plan to deal with your 'worst case scenario'. Practise crisis communication drills so that you are ready to go when things turn pear-shaped.
Complete the feedback loop: If things do go wrong with the media, don't hold a grudge, find out what went wrong. Talk with journalists, editors and scientists to understand where communication broke down and learn from such situations.
You can listen to the full audio from the event below.
Speakers:
Peter Griffin, Manager, New Zealand Science Media Centre:

Fiona Fox, Director, UK Science Media Centre:

Special thanks to Radio New Zealand's William Ray for providing audio from the event.