A series of three strong quakes struck the Kermadec Islands this morning but have not triggered tsunami warnings here in New Zealand.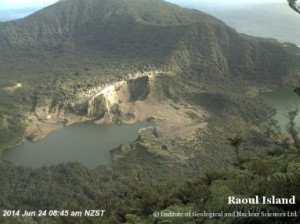 According to updated records from the US Geological Survey, the quakes, reaching 6.9, 6.3 and 6.2 magnitude, struck about 90km south east of Raoul Island, the largest of the Kermadec Islands. The quakes occurred between 7.20am and 8.10am this morning (NZT; Kermadec Islands seismic activity recordings from GNS Science can be seen here).
The Pacific Tsunami Warning Centre says there is currently no risk of a Pacific wide destructive tsunami from the earthquakes.
Radio New Zealand reports that six Department of Conservation staff were on the island at the time of the quakes but there fortunately has been no damage or injury.
Media coverage of the quakes includes: