Policy makers are hoping an Antarctic conservation meeting in Hobart could lead to no-fish zones in the Southern Ocean, but will the US government shut down throw a spanner in the works?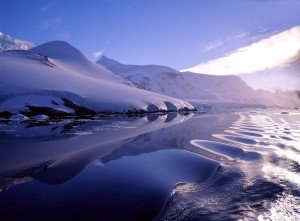 The Commission for the Conservation of Antarctic Marine Living Resources (CCAMLR) is tasked with managing the protection of Antarctic marine ecosystems and is currently meeting Hobart. The creation of an Antarctic MPA will be discussed at the meeting, after being blocked by Russia at meeting in Germany earlier this the year.
In a statement issued yesterday, Minister of Foreign Affairs Murray McCully, alongside US Secretary of State John Kerry and counterparts from Australia, France and the EU, called on the rest of the Commission to strive to reach an agreement on MPAs for the region.
"The Ross Sea and East Antarctica regions are widely recognised for their remarkable ecological and scientific importance." the statement reads.
"The MPA proposals now before the Commission are based on sound and best available science, will provide a unique laboratory for continuation of marine research, and will have profound and lasting benefits for ocean conservation, including sustainable use of its resources.
"We call on all Members of the Commission to bring years of preparation to a successful conclusion by establishing these important, science-based MPAs at the next session of the Commission in October 2013 in Hobart, Australia."
See also Yahoo! News:  New push for Antarctic marine reserves
However, Associated Press is reporting that the ongoing US government shutdown may prevent the US delegation from attending the meeting to negotiate MPA agreements.
According Associated Press:
"Gerry Leape, a senior international policy expert at Pew Charitable Trusts, said he's spoken to members of the U.S. delegation and he understands that their travel has been suspended because of the shutdown…
"Leape said the suspension could be lifted on short notice, either if the shutdown ends or if the delegation gets special permission to travel. Under normal circumstances, he said, the delegation would already be in Australia and working its diplomatic channels in pre-meetings."
You can follow announcements from CCAMLR here as the meeting progresses.