Poor sleep habits have been linked with teen weight gain in a new study, but the findings only seem to apply to boys.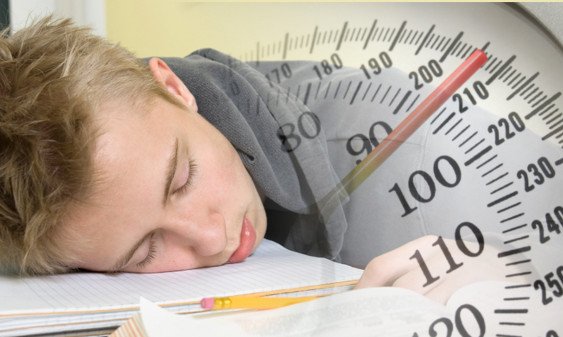 Researchers from the University of Otago examined the sleeping habits and physical measurements of almost 700 secondary school students, identifying a link between less sleep and higher body fat, but only in males. The research was published this week in the Nutrition Journal.
According the results, the average 16-year-old boy sleeping eight hours a night could expect an extra 1.8cm on their waistline and 1.6kg (9%) more body fat compared a similar boy getting 10 hours of sleep per night.
"The key aspect to this research is that that we examined adolescents," said lead author Dr Paula Skidmore in a media release. "Most of the research in this area to date has focused on younger children, whose parents tend to be stricter about bedtimes. Teenagers get more leeway over bedtimes"
"Our results suggest that for older teenage boys, making sure that they get adequate sleep may help to maintain a healthier a body. It seems to be that, within reason, the more (sleep) the better for boys."
"It was unexpected that we did not find the same result in girls, who may actually be more aware of their diet and more in tune with a healthier lifestyle."
The research has received nation-wide media coverage. Examples include:
Newstalk ZB: Less sleep equals more fat for teen boys – study
Radio New Zealand: Too little sleep puts extra kilos on teenage boys – study
3 News: Teenage boys need more sleep – study
Channel 9 Dunedin: It doesn't pay to get out of bed too early for some
Otago Daily Times: Sleep and grow lean – if you are a teenage boy, that is
New Zealand Herald: Lack of sleep makes teen boys fat, but not girls
Yahoo! NZ News: Hours of sleep and body fat linked for teenage boys