The Science Media Centre has relocated from its tiny base on Wellington's Manners St to the Royal Society of New Zealand's recently renovated headquarters in Thorndon.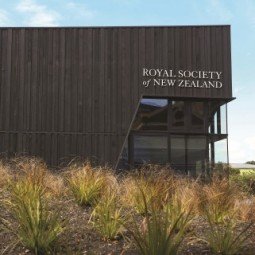 The move sees the SMC, an independent unit administered by the RSNZ and funded by the Ministry for Business, Innovation and Employment, now operating out of the nation's key hotspot of science communication and public outreach activity.
As well as gaining access to a regular stream of scientists visiting the RSNZ, the SMC will be able to take advantage of the Society's state-of-the-art facilities for press conferences, panel discussions and media-related events.
"The recent earthquakes in Wellington saw Civil Defence use the Royal Society to run its press conferences to great effect," said SMC manager Peter Griffin.
"It brought home to me what a great facility it is for holding media and public events. We were previously in a poky little office on the other end of town that wasn't really suitable for holding media events of any size, so intend to use the infrastructure now available to us to bring science and the media together."
As well as holding regular media briefings on science-related subjects, the SMC will run its Science Media SAVVY communication workshops at the RSNZ, and its newly launched Science Masterclass series for journalists.
"The RSNZ has rich expertise in science policy, publishing, education and runs an extensive programme of public lectures which we will also be able to take advantage of," added Griffin.
As an added benefit, the RSNZ headquarters is now one of the most earthquake-proof in Wellington! Come and visit the SMC on your next visit to the neighbourhood.
Physical address:
11 Turnbull St, Thorndon, Wellington 6011
Postal address is:
Science Media Centre
PO Box 598,
Wellington 6140
SMC hotline
04 499 5476
Online
smc@sciencemediacentre.co.nz
@smcnz