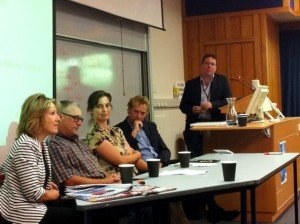 Earlier this week, the Science Media Centre was involved in organising the annual conference of the Science Communicators' Association of New Zealand, which took place in Auckland this year.
We invited artists, activists, entrepreneurs, journalists, television producers and more to discuss their experiences of science from 'the other side', challenging the science communicators who attended to think about their audiences from new perspectives.
For more info and the full programme,  see the SCANZ website
LISTEN BACK
Audio from the 2011 SCANZ conference in Auckland 21-22 Feb:
Opening keynote – Day 1 – Daniel Keogh (aka Professor Funk), video producer, science communicator, former producer of ABC's 'Hungry Beast'.
Science as storytelling – Experiments in new media and science communication.

See Professor Funk's You Tube channel to view videos referenced during this talk. [NB: Recording begins approx. 7 minutes into speech]
Second keynote – Day 1 – Professor Sir Peter Gluckman – Prime Minister's Chief Science Advisor.
The importance of science communication to the public's understanding of science

Keynote speaker – Day 2 – Sir Peter Maire, serial technology entrepreneur (Navman, Raycon) on taking New Zealand science-based business to the world

Panel discussion: 'The other side'
Can we find common ground on contentious science issues? We hear from panelists who typically find themselves at odds with scientists and research-driven reassurances, and discuss ways to bridge the divide.

Panelists: Chris Mullane, Ex-Vietnam Servicemen's Assoc.; Steffan Browning, Soil & Health Assoc.; Joe Harawira, Sawmill Workers Against Poison (SWAP)
Moderator: Karen Cronin (ESR)
More audio from SCANZ coming soon!