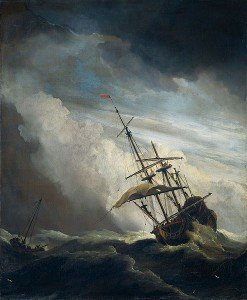 ONLINE MEDIA BRIEFING: THUR 30 September, 1:30 pm (NZT)
—
Weather data salvaged from Northland missionary diaries and Australian First Fleet ship logs are the focus of an international workshop on recovering climate information from historical sources.
Climate scientists from around the world are meeting in New Zealand this month as part of a global effort to recover lost weather data from the past.
'Environmental data rescue' aims to recover weather information, often from handwritten sources such as historical weather station diaries, ship records and explorers' logs.
Researchers say their efforts to uncover and digitise this rare weather information — currently locked away in archives — is vital to understanding climate variability and change in the region and on a global scale.
They will also showcase data visualisation techniques, like this Google Earth animation showing the difficult weather conditions endured day-by-day on a First Fleet voyage.
In this online media briefing, jointly hosted by the New Zealand and Australian Science Media Centres, leading scientists from both countries will present the latest research and most interesting projects using rescued historical weather sources — including the 'Dirty Weather' Diaries of Reverend Davis. Northern NZ, 1839 – 1851, and marine William Bradley's logbook on board the HMS Sirius in 1787.
SPEAKERS:
Dr Rob Allan is an Australian who manages the international Atmospheric Reconstructions over the Earth (ACRE) initiative. ACRE undertakes and facilitates international efforts to recover and digitise historical surface weather observations to fuel global historical weather reconstructions which are being made freely available to users worldwide. Dr Allan is based at the Met Office Hadley Centre in the UK, where he has worked for the last 10 years. Previously, he worked in the Climate Impact Group at CSIRO's Division of Atmospheric research from 1990-2000.
Dr Andrew (Drew) Lorrey is a climate scientist with the National Institute of Water and Atmospheric Research (NIWA) in New Zealand. He studies past climate variability and change in the Southern Hemisphere by combining instrumental data with natural climate archives such as tree rings and cave deposits. Dr. Lorrey currently leads the South Pacific Rainfall Atlas (SPRAT) project, which is examining Southwest Pacific rainfall and atmospheric circulation patterns for the past 200 years. Drew also has an interest in historical archives that contain meteorological data like ships logs and missionary diaries.
Dr Joëlle Gergis is a climate research fellow and science writer in the School of Earth Sciences at the University of Melbourne. She holds a PhD in palaeoclimatology and is currently leading an Australian Research Council-funded project to develop a climate history for southeastern Australia using historical, palaeoclimate and early weather data.

LISTEN BACK TO THE BRIEFING
Follow the link to watch an online replay of the briefing, courtesy of the AusSMC.
ONLINE BRIEFING DETAILS
DATE: Thurs 30 Sept
START TIME: 1:30 pm (dial in five minutes beforehand)
DURATION: Approx 50 minutes
Dial-in access to SMC briefings is limited to journalists and other professional media.