Officials and scientists from 28 countries that have signed up to the Global Research Alliance will arrive in Wellington next week to hammer out a plan to "produce more food with fewer emissions".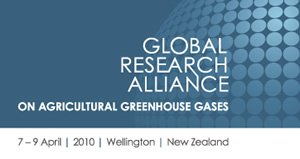 A four day conference running from 7 – 10 April will include a morning of public sessions – speeches from Prime Minister John Key, Princeton University research scholar, lecturer and biofuels expert  Timothy Searchinger and a video presentation from Indian agricultural scientist and plant breeding pioneer M.S. Swaminathan.
The Prime Minister's Chief Science Advisor Professor Sir Peter Gluckman will chair some of the sessions.
The meeting is the first formal meeting since the Global Research Alliance was announced during the climate change conference held in Copenhagen in December.
The SMC recorded a briefing for journalists from Ministry of Agriculture and Forestry Deputy Director-General Policy, Paul Stocks on what the meeting hopes to achieve.
[audio:https://www.sciencemediacentre.co.nz/wp-content/upload/2010/03/MAF-climate-briefing.mp3]
GRA Member countries
Twenty eight countries have joined the Global Research Alliance to-date. These are: Argentina, Australia, Canada, Chile, Colombia, Denmark, France, Germany, Ghana, India, Indonesia, Ireland, Japan, Malaysia, Mexico, Netherlands, New Zealand, Norway, Pakistan, Peru, Philippines, Spain, Sweden, Switzerland, United Kingdom, United States, Uruguay, and Vietnam.
New members are welcome to join the Alliance at any time.
Some background about agricultural greenhouse gas emissions and the Global Research Alliance
* Agriculture accounts for 14 percent of global emissions.
* In New Zealand, agriculture accounts for 48 percent of the country's emissions.
* The New Zealand Government has committed $45 million over four years to the Global Research Alliance.
* The US has indicated US$90 million over 5 years and Canada CDN$27 million over 4 years.
* In addition, the New Zealand Government has committed $50 million in funding to the domestic Agricultural Greenhouse Gas Research Centre, aimed at coordinating New Zealand's research efforts and identifying tools and technologies to support farmers in reducing on-farm emissions while maintaining productivity.
* The Ministry of Agriculture and Forestry leads New Zealand's Greenhouse Gas Footprinting Strategy for the land-based sectors which aims to develop sector specific approaches to GHG footprinting.
* The Government has also funded the Professorship in Life-Cycle Management in Agriculture and Forestry at Massey University.