ONLINE BRIEFING: Tues 2 March 2010, 10:30 a.m.
Drought-resistance, reduced greenhouse gas emissions intensity, superior nutrition for livestock — these are some of the benefits promised by researchers developing genetically modified pasture crops.
But will these be enough to convince farmers — and the wider public — to accept GM pastures?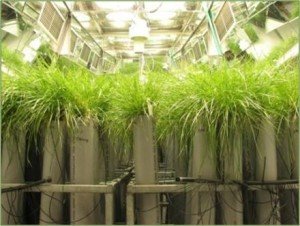 No GM pasture crop has yet been approved for release in NZ, but several, including ryegrass and clover varieties, have been under development in research organisations for years, and are now approaching readiness for market.
How far advanced is New Zealand research in this area? What risks must be evaluated? What are the prospects for dairy, meat and other producers if GM crops are released here? And what are the potential impacts on our international image?
To address these and other questions, the Royal Society of New Zealand has today released the latest in its Emerging Issues series of papers, which is now available online. This briefing brings together a panel of experts who contributed to the paper.
Audio from the briefing is posted below. Registered journalists can access slides from the speakers' presentations in the SMC Resource Library.
Listen to an audio recording of the SMC media briefing:
Part 1
[audio:https://www.sciencemediacentre.co.nz/wp-content/upload/2010/03/GM-forage-briefing-pt-1.mp3]
Part 2
[audio:https://www.sciencemediacentre.co.nz/wp-content/upload/2010/03/GM-forage-briefing-pt-2.mp3]
SPEAKERS
Dr Stephen Goldson – Vice-President, Council of RSNZ; Chief Scientist, AgResearch; Prime Minister's Science Advisory Committee.
Dr Goldson has been involved in pest management and biosecurity research for thirty years, including the study of exotic weevil pests in pasture and their suppression using biological control and plant resistance.  More recently, he has worked as AgResearch's Chief Scientist and has contributed to many national biotechnology, biosecurity and science policy advisory groups. He is currently Vice President, Biological and Life Sciences, Royal Society of New Zealand.
Dr Michael Dunbier – Pastoral Genomics
Dr Dunbier is a research scientist with expertise in genetics and plant breeding, a former director of DSIR Crop Research and founding Chief Executive of Crop & Food Research. He chairs the Boards of the BioProtection Centre of Research Excellence, Pastoral Genomics Consortium, HorticultureNZ Vegetable Research & Innovation Board and the Governance Groups of two NIWA OBIs. He is also a Director of the Foundation for Arable Research. In 2005 he received the Bledisloe Medal from Lincoln University, and he is a Fellow of both the NZ Institute of Agricultural Science and the NZ Institute of Management.

Pastoral Genomics is a research consortium funded by the Foundation for Research Science & Technology and pastoral agricultural industry organizations in the dairy, meat and velvet industries to pursue new forage cultivars.

Prof Caroline Saunders – Director of AERU, Lincoln University
Dr Caroline Saunders has 20 years research expertise in the UK and New Zealand, with over 100 publications specialising on economic impact of policy.  Her current research specialises in economic development of New Zealand especially for the regions.  This includes assessing optimum use of NZ resources to improve well-being of NZers including research on international trade, resource use in regions, market access and development of new technologies.
In addition she is developing novel ways of assessing the impact of development including the social and environmental impacts. She has undertaken research for a wider range of private and public bodies both here and overseas.  These include the EU commission, MAF, MFAT, Treasury, MFE, High Growth and various producer groups.