A Dominion Post article by Paul Easton looking at efforts by NIWA to scan the floor of Wellington harbour using a multi-beam echo sounder.
An excerpt: (read in full here)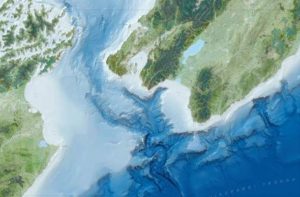 "The secrets of Wellington Harbour and Cook Strait are being revealed by never-before-seen hi-tech underwater scans.
"The images show massive underwater canyons, debris from huge landslides, freshwater springs and major fault lines.
"The harbour bears many scars from human activities, including dredging, and gouges on its muddy bottom from large ships' propellers.
"A ghostly image of the wreck of the South Sea, a minesweeper which sank in Wellington Harbour in 1942, is also visible on the seabed."