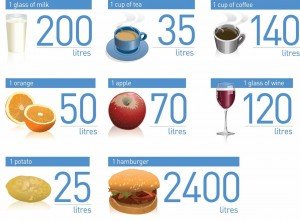 Virtual water – defined as the total amount of water used in the production of anything from a cup of tea to a hamburger, has been identified and described internationally as an emerging issue that will be as significant as greenhouse gas emissions.
Due to the finite nature of the resource, fresh water is increasingly being studied in terms of effective usage and sustainability.
The Royal Society of New Zealand has published an Emerging Issues paper on the subject, in which it discusses the concept, current difficulties in measuring virtual water use, and its implications for New Zealand, particularly in terms of agriculture and horticulture.
Currently, New Zealand is a next exporter of virtual water through agriculture, and the paper discusses how its study could lead to more effective water usage, and hence the ability to enlarge our available arable land capacity.
The Science Media Centre will be conducting a briefing on the matter, in which two experts (and co-authors of the paper) will outline the science behind virtual water measurement, and its implications for local producers.
Click on the player below to listen back to the briefing. Registered journalists can log into the SMC Resource Library to download the presentations.
Part I
[audio:https://www.sciencemediacentre.co.nz/wp-content/upload/2009/09/Virtual-water-Sep-09-Part-I.mp3]
Part II
[audio:https://www.sciencemediacentre.co.nz/wp-content/upload/2009/09/Virtual-water-Sep-09-Part-II.mp3]
SPEAKERS
Dr Brent Clothier: Group Leader of Systems Modelling at Plant and Food Research. Brent is a Fellow of the Royal Society of New Zealand, the Soil Science Society of America, the American Agronomy Society, the New Zealand Soil Science Society, and the American Geophysical Union.  He has won several awards, and, in his 35-year research career, has published over 195 scientific papers on the movement and fate of water, carbon and chemicals in production systems, as well as on environmental policy and natural capital valuation.
Alistair Mowat: Alistair has been Innovation Leader at Zespri for the past 8 years, focused on a range of projects relating to fruit quality, productivity and sustainability. Previously, a scientist at HortResearch for 16 years, he worked on persimmon and kiwifruit eco-physiology.
News coverage:
NZ Herald: 'Water footprint' as pressing as carbon dioxide emissions
Radio New Zealand: Scientist measures 'virtual water' used in food crops
Business Day: 'Footprint' for water
Otago Daily Times: 'Virtual water measures'