There's always a certain cringe factor when we start talking about taking tissue or even whole organs from animals and transplanting them into humans.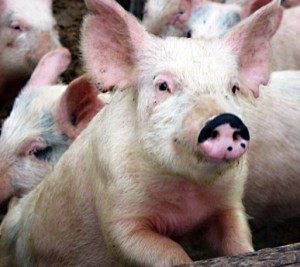 It's yet another area of science rife with questions of ethics and safety. But as the the Journal of the American Medical Association points out in a very good four page report by Dr Richard Pierson, transplantations save thousands of lives each year and there is a constant shortage of organ and tissue donors.
That's why a lot of research has been done on pigs to determine their suitability for xenografts – where tissue or organs from one species are implanted into or grafted onto another species.
Pig organs – kidneys and hearts, have been transplanted into "non-human primates" (ie monkeys) but functioned for only short periods of time (12 weeks and 6 months respectively), according to Dr Pierson.
Part of the problem is what doctors call xenograft injury: "Multiple difference have been identified in complement or coagulation pathway protein function between pigs and humans. It seems likely that one or more of these incompatible molecular interactions contributes to clot formation within graft vessels, even under circumstances in which evidence for immune injury is weak," notes Dr Pierson.
In New Zealand, a unique experiment is getting underway to treat diabetes sufferers using pig cells that when implanted in the patients will hopefully allow them to produce insulin. Living Cell Technologies, which earlier this month reported its half-year financial results, has been building a breeding facility in Invercargill where it will rear a carefully cocooned pig herd for use in the xenotransplantation trial.
As JAMA points out: "Recently a clinical islet xenograft trial involving 8 patients with diabetes and using porcine pancreatic cells has obtained provisional approval by New Zealand regulatory authorities.
The clinical trial comes on the back of major progress in islet transplantation research, where porcine islets have reversed experimentally induced diabetes for up to six months in monkeys.
"… these studies demonstrate consistent, prevalent long-term insulin-independence for the first time in pig-to-primate models."
So what are the risks associated with these types of clinical trials? Scientists worry that a pig virus could be transmitted to an organ or tissue recipient leading to disease or death. If the virus could be transmitted among humans, the procedure could be responsible for the spread of a potentially devastating virus.
However, Dr Pierson notes: "The risk of significant recipient disease or contagion appears to be small and may be acceptable when weighed against the potential benefits of both transplant candidates and society at large".
Then there's the animal rights issue, with many opposed to the idea of raising animals and modifying them genetically, specifically for the purpose of harvesting organs and tissue from them for humans.
All of this, says Dr Pierson, requires that the highest ethical and moral standards are met as scientists undertake these sorts of clinical trials.
Trials are underway in Russia, where Living Cell Technologies has a total of seven patients receiving its DIABECELL implants. Latest progress, which sounds promising, is outlined in the company's latest newsletter issued a few days ago.
But Pierson notes in JAMA that the trials ongoing in Russia and the one provisionally approved in New Zealand, "lack adequate published scientific evidence from nonhuman primates that patients are likely to benefit significantly."
Still, he praises the way New Zealand health regulators have handled the public consultation around the trial, which he says will serve to "build public confidence in xenotransplantation".
So its a case of "watch this space" for xenotransplantation trials and New Zealand's potentially siginicant role in this cutting-edge area of science.