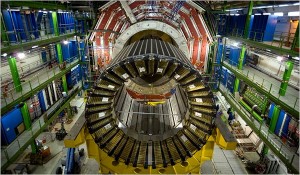 The Large Hadron Collider, which was launched with huge fanfare in September and soon after sprung a leak and was shut down, is to be fitted with helium leak early warning detectors to protect against future leaks.
A helium leak at the LHC in late September damaged the huge magnets that the collider relies on, with the price tag close to 20 million pounds to fix it.
Writes the Times: "CERN, the European particle physics laboratory near Geneva, is to fit the accelerator with 100 miles (160km) of cables and 2,000 crates of electronic monitors, so that engineers will be alerted to potentially hazardous abnormalities before they can cause serious damage."
The LHC's repairs will take months putting it out of action until at least the middle of next year. That's incredibly frustrating for the scientists who have waited 20 years to use he world's biggest and most expensive scientific instrument. But the New Zealanders involved in the project are taking heart from the early tests that showed detectors they are responsible for monitoring, worked exactly as they should have.
Said Professor David Krofcheck of the University of Auckland, who left for CERN just before the LHC leak was detected:
"It was still exciting to be at CERN as our research group, the CMS (Compact Muon Solenoid) detector group, was elated to see all of the sub detectors work when the protons hit a beam stop that was inserted about 150 meters away from the CMS detector," said Krofcheck.
"The New Zealand detectors worked brilliantly and were ready just in time to also see signals from the first protons.  We guessed that it would take more time than was initially estimated to fix the accelerator.  Now we are looking at ~August 2009, but that is the way high end technology works (or doesn't!) the first time you use it."