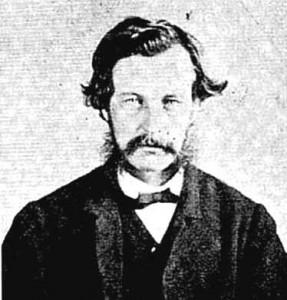 A column by Virginia Winder published in the Taranaki Daily News, looking at James Hector, one of the pioneers of New Zealand science. Column in full here.
"The man dubbed New Zealand's Mr Science once awoke from an accident to find a grave had been dug ready for his final farewell. James Hector was just a young man in his 20s when he was kicked by a horse during the 1857-61 survey of British North America (now Canada). Hector and the group, led by John Palliser, were travelling up a river looking for a pass through the Rocky Mountains when the incident occurred.
In his official report, Hector wrote that the horse "kicked me in the chest, but I had luckily got close to him before he struck out, so that I didn't get the full force of the blow. However, it knocked me down and rendered me senseless for some time."
"When he came to, the Scotsman found his four survey companions had thought him dead and were ready to place him in the fresh hole. This event also led to new names appearing on the Canadian map Kicking Horse River and Kicking Horse Pass, according to a new book called The Amazing World of James Hector.
"The reason Hector has been given the "amazing" description of Mr Science is because, in the 1860s, he single-handedly established this country's main instruments of science. Following the Otago survey, he moved to Wellington in 1865, the same year it became the capital. He then founded the Colonial Museum, now the National Museum of New Zealand Te Papa Tongarewa; the New Zealand Geological Survey, which has become GNS Science; and the New Zealand Institute, now known as the Royal Society of New Zealand."