Reports on the news wires suggest a genetically-modified soya bean that has been the subject of first phase trials in the US could help fight heart disease by raising blood concentrations of long-chain omega3 acids – the type found in oily fish and known to protect against cardiovascular diseases.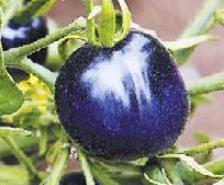 The Times of London is billing the GM soya as the first genetically modified food that could directly benefit human health. Writing in the Times, Professor Ian Crute, director of Rothamsted Research, a publicly funded agricultural science institute, said the development should encourage Europe to "rewrite the rule book" on GM:
"The key issue, which has been lost in the furore over GM, is that it is the new characteristic of the crop, rather than the means by which this is produced, that should be placed under scrutiny with regard to impact on the environment or human wellbeing.
"There are signs in Europe that we are beginning to realise that we can no longer take cheap food, or even food security, for granted, and that there may indeed be real potential benefits to be derived from the adoption of GM technology."
Meanwhile, British plant biologist Cathie Martin, a professor at the University of East Anglia, has led a research project that's resulted in purple tomatoes – they added anthocyanins (red-blue plant pigments with disease-fighting antioxidant properties) that are also found in blueberries, blackberries and cranberries. Check out the news report below.
[youtube]http://www.youtube.com/watch?v=gs-DYWt0I0s&feature=channel[/youtube]
All of that makes food for thought as New Zealand prepares to host its own conference on genetic modification later this month. Two crown research institutes have recently applied for approval to hold GM trials. Those moves have already sparked furious debate, with the Green Party weighing in to voice their opposition – see the comments of Greens leader Jeanette Fitzsimons in response to a question on genetic modification put to her by the Science Media Centre.
"We are opposed to AgResearch's application which risks turning New Zealand into a giant GE laboratory at the expense of our long-term food markets, and with no account of the huge risk of something going wrong," she said.
But there's a different view often prevalent among scientists, a view espoused by Dr Bob Brockie, the DomPost's science columnist:
"Our [GM] rules are far more restrictive and prescriptive than anywhere else in the world and impose expensive, heavy-handed and ponderous procedures on our scientists," writes Dr Brockie in today's editorial pages.
Which makes the discussions that will take place at this month's conference all the more important as New Zealand decides its approach to GM and the role we want it to play in our future.